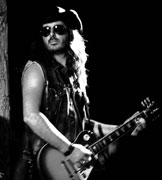 Armand John Anthony




Guitarist / Drummer / Bassist / Engineer / Producer
Armand is all about his classic rock … Thin Lizzy, Deep Purple, ZZ Top and Guns 'n' Roses are a few names that come to mine but there are a lot of others as well. He's a working guitarist with several bands doing both original songs and covers. He also owns the Captain's Quarters Recording Studio in Ventura, California where he engineers, produces and often plays guitar, drums, bass and/or keys on a variety of projects, including Aaron Orbit, Gypsyhawk, the late Jackie Lomax, Danielle Taylor, New Liberty and many more. The studio has been operating full time for the past five years.
Between rehearsing with his various bands, performing live gigs and his studio work Armand keeps pretty busy. At the same time, in the true spirit of rock, he knows how to have a good time when the work is done!
In the early 2000's Armand was signed to a major label (Virgin) and toured nationally. He dived into the recording world in late 2007 and within two years he had helped form the band New Liberty who have since produced and released their own self-titled album and been on several tours.
It all started for Armand with Slash from Guns 'n' Roses. His cousin gave him a cassette when he was eight years old and, in his words, "That changed everything." Jimi Hendrix was another major influence along with Jimmy Page. His dad had a Les Paul and Fender Twin Reverb amp hidden in a closet that he used to sneak out and play when no one was around. His dad is an accomplished keyboard player.
In 2012 Armand began his collaboration with Terry Gorka. Together they wrote and produced more than 40 songs that year and have continued their torrid pace of developing material and utilizing local talent for vocals, pedal steel, drums, bass, guitar, keys and any other supplement they need to complete their productions. They have licensed almost their entire catalog to various music libraries. New Liberty also scored a couple of placements on the MTV show, "Ridiculousness."
Some of Armand's favorite collaborations with Terry are rock powerhouse tracks, "Valerie" and "Dream Maker." Country songs, "There's No Getting' Over You." The guitar solo in "One More Time" is certainly one of his most dynamic moments. Armand's biggest takeaway from the relationship has been expanding the styles of music he performs and produces with Terry. "Run the Show" – a modern country rock song – reached No.8 on the Independent Country Radio charts in January 2015. Armand's commanding guitar presence gives the song a certain urgency and energy that compliments Karen Eden's in-your-face vocals.
Armand sees a bright future of expanding their horizons collaborating with more singers and other musicians to develop music for film, tv and other artists. He will also continue his full schedule of recording independent projects, performing with his bands and enjoying his social life.