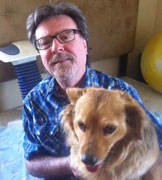 Ken Stange
Songwriter / Composer / Keyboard Player / Arranger / Orchestrator
Ken toured as musical director and keyboard player for Joe Cocker, Roger Miller and Jose Feliciano from 1985 to 2000. He worked as composer and sound designer for Warren Dewey Sound Design composing music and editing sound effects for national commercials, cartoons, and movies.
As a member of the adjunct faculty at Pepperdine, he taught jazz piano. He scored many radio plays for California Artists Radio Theatre, founded by actress Peggy Webber, as well as radio plays for Norman Corwin. He was the composer on the films "One Man Army", "Caged Heat 2", and "Firehawk" for Roger Corman's Concorde Films.
In 2008 he composed the music for the film "Beauty Sleep Symphony", written and directed by Carl Darchuk and in 2010 he was the composer on the film "The Rainbow Tribe" on Netflix, written and directed by Daniel Frisch. He also contributed as composer on the hit movie, "The Wedding Planner."
He studied piano from the age of 7 and was a piano and composition major at Ventura College. He studied classical piano with Peter Yazbeck from 1969-1975; and studied film composing and arranging with Marty Paich from 1993-1995. Ken was nominated for a Grammy as composer for the Firesign Theatre CD "Bride of Firesign" on Rhino Records.
His music has appeared on popular shows, including "The Young and the Restless", "General Hospital" and many more. He currently plays keyboards, guitar, and harmonica for Dennis Quaid and the Sharks as well as keyboards for Paul Anka.
Ken began his collaboration with Terry Gorka in 2010 when he first prepared the charts for 5 of Terry's original compositions. They met in the studio with Ric Fierabracci (bass), Joe Baugh (guitar) and Walter Rodriguez (drums) for a full day session producing the music for the tracks. Terry was completely taken by Ken's talent and the two struck up a relationship that has produced a range of music from country to rock to jazz to orchestral – all original music. Terry is quick to point out that Ken can arrange anything and Ken's collection of Christmas holiday classics orchestrated in a classical style are family favorites in the Gorka household.
Ken and Terry often collaborate with Armand John Anthony in a range of genres and styles. Ken sees the possibilities of a successful future with nearly 50 pieces of their music already licensed.